Say No To Family Drama And Separate Yourself From Unhealthy Relationships
There are many situations where drama comes up. Nope, not like a good Lifetime movie where you are entertained and captivated for 2 hours.
We are talking about situations that are going to be a complete waste of your time if you jump into it.
And could possibly make the situation worse for yourself, and others.
Today, I bring to you the first installment in the series: The Drama Is Not For Sale, Don't Buy It. This first part examines family drama and saying no to unhealthy relationships.
There are really only a couple easy steps to remember when dealing with family drama, and one step you can try to help people out, while not involving yourself in the family drama. Read on to find out more!

F

irst Step

In Saying No To Family Drama: One Must Recognize Unhealthy Relationships
You recently moved across the country (according to your mom). In reality, it was a few hours away. This move was to improve your work situation that better matches your stage in life. Downside of moving: no  friends, family or familiar places.
However, you didn't realize the extra perks of moving: getting away from unhealthy family drama and discovering new places that better match your interests.
Before in your old city, you were exposed to your sibling, and her 4 kids she had before the age of 30, randomly dropping in and dumping off 1, 2…4 kids at a time while she ran around.
Neither her, nor her spouse, are able to hold down jobs. Because they usually tell their bosses where to go and how they could do their superior's job better.
Your Efforts Of Help Is Usually Met With Resistance

You help her update her resume, coach her through interviews and even how to leverage yourself in performance reviews. After all, you are a Supervisor (sadly, supervising many employees like your sister) and know what you are talking about.
You kind of get paid to give hiring advice to managers within your company as well as recruit, train and develop interns.
But what do you know.
She doesn't adhere to your advice. Instead, she calls you a hotshot manager in a big company and really don't know what it's like to work in the real, blue collar world.
Somehow, she has no memory of your years of experience working in 'the real world' since about age 5.
Eventually, she lands a job. You are a bit surprised at the position, location and pay. You think, "Wow, she must have really worked on her resume."
Time Reveals
Lies
, Theft and an Inflated Resume
Within about a month or two of her new workplace, your sibling starts complaining about being treated unfair. She's also been put on notice that if her performance doesn't improve, she's going to be fired.
When you asked the specifics, she says they are trying to hold her accountable for duties she doesn't know how to do and has no experience in.
You still want to help, after all, you are bound by blood. And you ask for her job performance description as well as her resume.
The resume is yours.
Slightly a bit tailored to match her former places of work, but sentence for sentence, the experience is copied/pasted right from your resume.
Your freaking awesome resume you've shed blood, sweat and tears earning.
When you confront her, she has no problem saying that when she was working on your computer, she emailed a copy of your resume saved from the performance docs folder on your computer.
Only so she could "use it as a template" to help her with hers.
You aren't angry at her. Nor surprised. She stole your Algebra I, II, Stats and Trig homework out of your locker in high school, and even copy/pasted your English book reports.
It just validates she hasn't changed much at all in 15 years.
To prepare her for the news her bosses are holding her accountable for her awesome resume, are disappointed she can't walk the walk, you bluntly tell her she's likely on the chopping block.
So she doesn't get fired, she quits and some how lands a part-time job tutoring students. You are still scratching her head wondering how she's qualified for that one…
Second Step

In Saying No To Family Drama: Stay Out Of Their Lifestyle
To keep away from family members?
This is a hard one.
But you eventually expose yourself enough to their lifestyle you realize you can't make a positive influence, and need to walk away.
Your sister actually lives a hoarder's lifestyle.
I know.
You have no idea how you and this sibling are related since you have a deep obsession love for cleaning and DIY projects.
The cause of this was likely her running off with her now husband at the age of 14. Who was raised in a hoarder's house. He has pretty much brainwashed parented her with his beliefs from an early, impressionable age.
Your sister's amazing husband allowed her to graduate high school. But on her first day of college, he drove to the city. Moved her out of the dorms your parents agreed to pay for. And back in with him in their condemned house.
She worked for a year and saved up enough money (herself) to buy a trailer for $10,000 that was only about 7 years old from the family of an an elderly woman who recently passed away. It came fully furnished. The flowery curtains and matching furniture was kind of nice.
Within One Year This Grandma's House Was Trashed
And resembled the condemned house they just moved out of. When your sister was about to give birth to her first kid, you spent your entire 2 weeks of college off during Christmas break (and your job) to clean up her house while she worked before the baby came.
Any thank yous? Nope. You and your bro-in-law actually ended up yelling at each other on the front lawn. He wasn't too grateful. It was #JerrySpringerLevel
To this day, they are still living in it.
And oh, you really don't speak to your bro-in-law.
She has no idea why you won't let your kid stay over there once in a while to spend time with the cousins.
Because in one small light of a match that trailer would be up in flames in 5 minutes.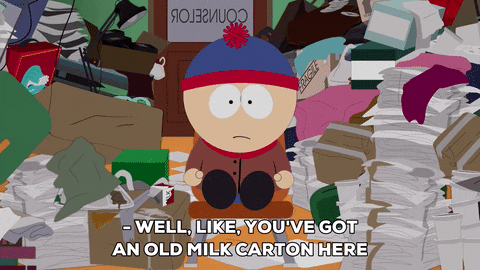 Last Step

In Saying No To Family Drama: Find Other Ways You Can Be Helpful…From A Distance
As long as children are well fed, educated and kept clean daily, pretty much it's still OK for them to live in a hoarder's home.
Yes, that's what social services keeps writing up after visiting your sister's home about once a year.
Oddly, it isn't you calling.
But, someone else is keeping an eye on the situation.
They throw out their daily garbage and do keep most kitchen and bathroom surfaces clean, but after that, it's about it.
You really don't wish for families to be broken a part, so you try and help as much as you can, from a distance.
However, this doesn't include helping your sibling or her spouse out. You know what they are/aren't capable of and how they've used people for money in the past.
Instead, you try and mentor the children, which, there is still hope for.
1. Encourage Learning
Your oldest niece is in middle school. Her grades are all straight As.
But, she's shy and quiet with kids her age. A target for bullies. Oddly, with adults, she can impressively hold her ground.
So, you introduce her to Toastmasters.
She finally decides to join her speech team in school, and is now competing on the high school team because she's that advanced for her age. You know her IQ is up there, now let's keep developing her EQ.
You will continue to have faith she will keep being her awesome self and surround herself with other outgoing, professional peers and will lead a different lifestyle than her parents.
2. Support Their Interests
The next one worries you a bit as there are some extreme high/low behaviors of acting out. You are no psych doc here, but can assume it's lack of proper attention/focus in her home.
Her interests are not school, but sports. Luckily, between you and your spouse, you can kind of help hone in those skills. As after all, a dedication to sports did help motivate you in your early years.
You also have plans to get them into summer camps where they can work on their band, sports or other interests they may have. Oh, and get them out of their home.
3. Introduce Them To "Different" Lifestyles
You host family get-togethers at your house a couple times a year. Mainly, sometimes to save you a few long drives a year.
But it's also starting to serve a few purposes.
Such as exposing your nieces and nephews what other people's homes are like outside of theirs. In your home, you actually have a long list of rules: No yelling, name calling, swearing (blogging doesn't count), potty/bath/brush/bed all happens within the 7pm hour and there's no TV if you are crabby or don't clean up.
Whoa. Super strict. But, it's being noticed. Your nieces have mentioned they'd rather live with you in your happy home. So you will keep reinforcing there is, and can be, a life outside of the one you grew up in.
Readers

:
What are your tips in saying no to family drama? Or do you always give in?
Comment below or shoot me an email! We would love to hear from you!
Want to know more about us?
Check out our awesome About Us! page.
Or – check out our categories! This article is filed under the category, "Lifestyle" but we also write on many subjects such as Careers and Professional Development, Motivating Money Topics, and Blogging About Blogging.
We even write a Wednesday weekly newsletter, Hump Day Heat, highlighting some amazing finds within our favorite blogging community. Check it out, you may be listed!
Let's Be Friends!
Sign up right here to receive notifications of new posts, newsletters or giveaways. We promise we won't spam you, and as you will see in our disclosure, we will keep your information private.
Cheers and have a great day!
PS – Sharing is caring! Pin, Tweet or Share this page! Thank you!