Have you ever been frustrated with an employee because you think their job is so easy and you can't possibly fathom how they can be stressed out by it?
I certainly have been guilty of this and it's time to think of the big picture.
Everybody has job stress no matter how high or how low on the totem poll they may be.
Let's examine how stress affects us all, causes and ways we can cope. There might be even a little bonus funny (or not so funny?!) stress story in this too!
Stress Affects Us All
For example, take an employee at a fast food restaurant. I will preface that I have never worked at one so this is just an assumption. Very few people give these workers much patience or respect but I am willing to bet their jobs can be stressful at times. Especially when starting out in the industry or during busy points of the day. Sound familiar? Yup, just like the rest of us and our fancy jobs that we think are pretty important.
Stress is a weird thing if you think about it. It can be a totally different animal from person to person. A public speaker can get up and speak in front of hundreds of people without a problem but dread putting together the Powerpoint. People still use that right????? Anyways, the next person could be completely opposite.
I remember hearing a receptionist vent one day and I thought to myself "if only I had her problems." Well it turns out that she had more job duties than I knew and after realizing this, I have a better understanding of what the complaints were. Some of the tasks were not enjoyable to do!
Stress From A Job That Doesn't Match Your Stage In Life
Sometimes it isn't always just the job position that causes the stress. It can also be the lack of a fit between employee and occupation. According to the American Institute of Stress, it is not the job but the person-environment fit that matters. Some folks aren't cut out for fast paced work and others wouldn't be able to sit at a desk and wait for the phone to ring.
I see this type of thing all the time. It's like putting a square peg in a round hole sometimes but people need to work and it's up to the supervisors and decision makers to find the proper fit. It certainly isn't an easy thing and sometimes people can go years and years without finding the proper spot in the workplace. This leads to more frustration not to mention the additional pressure to perform job duties.
In my own line of work, there is a certain amount of pressure every time the phone rings.
That means there is a new IT related problem to fix, nobody calls me just to say hi and visit. Some issues are easy and some not but with each issue there are expectations to meet and to meet them quickly. Other times we have projects with a certain time frame we have to adhere to.
I've been told on several occasions "I don't know how people can work in IT." This makes me wonder if the profession is so bad compared to others or if it is just another instance of different strokes for different folks? To me, fixing a computer issue is a lot easier than dealing with an angry customer who didn't pay their electric bill or working with people on a home mortgage loan who have a million questions.
Other Causes Of Workplace Stress
Aside from the above mentioned job position mismatch, there are other causes of workplace stress.
1. Heavy workload
2. Tight deadlines
3. Demanding supervisor
4. Low pay
5. Annoying coworkers
6. Not enough time off
7. Office politics
8. No flexibility for work/family balance
How To Cope With Stress
If you want to be successful in the corporate workplace, it is imperative to find ways to combat the frustrations of the daily office grind. If not, your physical and emotional health will decay. You will be an irritable employee and most likely bring work frustrations home to your family. Here are some tips:
Exercise daily. Here is a 25 minute morning workout that anyone can do!
Take some time off. Use those vacation hours, stay away from anything job related as much as possible.
Talk to your supervisor about the work stuff stressing you out. Perhaps changes can be made to help.
Concluding Thoughts And A Funny(?) Story
So to wrap this up, I think we need to be mindful of the stress that other people could be under as we go about our day. It doesn't matter if you are an entry level IT technician or a senior executive, we all go through it. There is no reason to look down on anyone or to be so quickly frustrated with them.
Ironically, we had such an experience today at one of the big box retailers.
Last evening our microwave bit the dust. Death by an Oscar Myer hot dog. I guess seven years is about all you can expect out of things these days. Mrs. DS even kept so clean as pictured in her last blog post. Anyways, I thought picking out the microwave would be the most tedious part of the day. Nope, no such problem there. We found the one we wanted immediately. It was the transaction process that took FOREVER.
Or about an hour after telling the salesperson which one we wanted.
Keep Calm….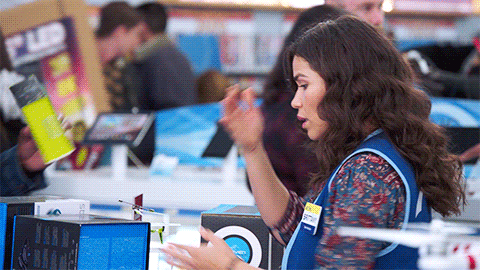 First she needed help from another associate to fill out stuff on the computer. And then the closest printer wasn't working…. Which wasn't anywhere near us of course. And then she printed out the wrong sheets. While helping us, she took time to answer the phone and randomly seek other customers and ask if they needed help with anything today. That was a puzzler! Keep in mind we had our toddler along, they are so patient. NOT. Thankfully he found a measure of contentment on the riding lawn mowers.
This was maddening but yet somewhat comical because this is my luck. These things seem to happen to me. I'm usually in the wrong place at the wrong time.
But I stayed cool and could obviously see this person was fairly new. And tech problems happen, yes lawd. Finally the stars aligned and we got the heck out of there.
Everyone has stress, yes we do.
Readers- Have you ever been quick to judge someone's stress levels based on their job? Thank you for stopping by and commenting!