Hey you! Yeah, the person reading this, not the gal or guy behind you. Do you have 25 minutes in a day for fitness?
Yes, you do.
Try a new morning workout to set your pace for the day. A morning workout has many benefits. It speeds up your metabolism, clears your thoughts and focus for the day. And, of course if you get your morning workout done early, you can dedicate the rest of the day to your other goals!
So, what's stopping you?
We are pro health and fitness over here at Defined Sight. Mr. DS is a fan of pumping iron. I used to be the Cardio Queen. I say it in past tense because running took a bit of a toll on my knees. And I kept having recurring back and hip issues. Even with the help of a personal trainer and chiropractor back in the day, it was an uphill battle.
I hung up my running shoes when I was pregnant and found myself not having time to get back into fitness until my kid was about 2 years old. I wanted my morning workout routine back, but wasn't sure where to begin without running. My husband encouraged me to lunge everyday to build my core and back muscles back up.
Naturally, I was skeptical. Because lunges make you bigger! That's a lie. When done right, and consistently, it does build your core and back muscles! If I consistently lunged in my morning workout every day, for 3 weeks, I found it speeds up your metabolism (goodbye baby weight! I won't miss you!). And gives you some pretty cut thighs. Of course, a booya booty. No complaints from the spouse in this area.
In my opinion, there's also no better way to build your core muscles (such a struggle to get this back after having a kid) and fix a weak back (another issue caused by sitting too much at our desks and not standing).
I am not a doctor, nor professional trainer. You should always consult your doctor and gain a professional understanding of your current health before you begin a new exercise.
Now here's my favorite 25 minute, no excuse morning workout! Give this a try!
This post contains affiliate links. For Defined Sight's full affiliate disclaimer click here.
1. Warm Up: Leg and Arm Lifts (5 minutes)
Since I hung up my running shoes when I was pregnant, I wanted to still be active. I bought Tracy Anderson's The Pregnancy Project workout DVDs. They were great and I still do the leg and arm lifts before any workout today! Warming up your muscles before lifting or any cardio is a must for me to prevent injury.
I'll start with basic leg extensions, 30 on each side, then bent leg lifts (yes, like make a triangle with your leg and open it up…these suck in my opinion). And I'll do 20 reps on each leg for this.
To make it more challenging, and I always have to be doing something with my arms or I feel dumb, I'll also do arm lifts during leg lifts. Use a resistance band if you feel like being hard core!
2. Lunge forward (6 minutes), backward (6 minutes), and oh yeah – SQUATS (2 minutes)
I do 100 forward lunges in a row, with arm curls. No, I didn't do 100 starting out my routine, I slowly worked my way up to a 100 forward lunges. Then incorporated arm weights.
Then, standing in place, I do a 100 lunges backwards with different type of arm movements. Straight arms out to the side, in front of you (these suck), overhead presses and down squeezing back muscles together, etc. Mix it up – this is your workout! Work your arms and back out the way you want to do it!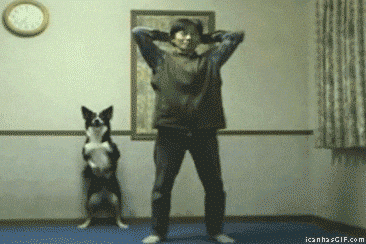 I also squat in place with overhead arm presses. Sometimes, I get adventurous and use a weight bar, or if I'm lazy I just use 2-10lb free weights…whatever I have laying around!
3. Ab Roller (2 minutes)
An ab roller is one of the smallest, most humbling pieces of workout equipment. It will make you feel like the wimpiest person ever. I got one after having a kid as I really wanted to build my core back up. And I couldn't do one! I ended up tossing it aside, doing my lunge routine for 3 weeks, then picked up the ab roller to try again.
And I was surprised!
I could do 10 in a row! Undoubtedly, it was the lunging that built my core up enough to successfully, finally use the ab roller. I'll do these until I pretty much almost fall on my face…some days it's 10, some days it's 20. Some days I will skip the ab roller as I don't want the punishment! Try and do a few sets at a time if you can…one at a time counts and you will build up to more!
4. Cool Down (4 minutes)
I may do a few more squats, but I basically also do the leg lift routine again or incorporate some zenful yoga moves.
My favorite yoga DVD is actually from P90X. I know – throwback! If you have time to do the complete, hour and half yoga workout, it will set your body right for the day! Or even, make you sleep like a baby at night!
Morning Workout BONUS Tips :
Unfortunately, I don't have an hour and a half in my day to dedicate to working out. But I do have 25 minutes! And that's all the time I need to break into a huge sweat from doing the above routine, get my heart pumping and really feel like I accomplished a lot in just a short amount of time.
Mix it up! When it's a nice time of year, I'll do this outside, barefoot! It's the best way to get your earthing game on also while working out. In my opinion, a morning workout is the best way to start your day. And kick up your metabolism.
Pair this morning routine with other healthier habits. We make fruit and veggie smoothies a priority in our diet. I find if I have one as my breakfast mid morning, and eat one before dinner at night, I am not eating as much junk and I feel like my immune system is better.
Overall, it's up to you! Make fitness a priority in your life. After all, Health = Wealth! What's your favorite, quick workout routine?
Related Articles:
Want to know more about us?
Check out our awesome About Us! page.
Or – check out our categories! This article is filed under the category, "Lifestyle" but we also write on many subjects such as Careers and Professional Development, Motivating Money Topics, and Blogging About Blogging.
We even have a Wednesday weekly newsletter, Hump Day Heat, highlighting some amazing finds within our favorite blogging community. Check it out, you may be listed!
Let's Be Friends!
Sign up right here to receive notifications of new posts, newsletters or giveaways. We promise we won't spam you, and as you will see in our disclosure, we will keep your information private.
Cheers and have a great day!
PS – Sharing is caring! Pin, Tweet or Share this page! Thank you!