Ha! Just kidding. Click bait title. If you are familiar with Mr. DS's childhood, and mine, we aren't social city slickers. And we do crave the simple life once in a while.
Luckily, we have friends that chose to live a somewhat remote, simple life a few years ago near the Idaho/Montana border. And so, we decided to take a long-@$$ road trip to visit them for a week.
Today, I am going to share how to prepare for a trip to live the simple life. And also share the history of this couple, and how they gave up their city slicker life to live a simple life.
Setting The Scene: How We Met The Simple Life Couple
While attending college, I met a gal, who had the same workout schedule as me at the gym. We both were pretty introverted and shy and didn't talk too much.  And therefore, we didn't know our boyfriends (now both husbands!) were IT BFFs at the same workplace! We found this out when they wanted to hangout on a double date one evening.
Friendships formed right away, and she became my marathon running buddy. I did half marathons, and cheered her on while she ran full marathons.  Even though we moved away after college, we stayed close over the years. I would even say she's the sister I wish I had.
Why They Gave Up Their City Life And Moved To The Country
Both were a fairly successful couple in the professional world. She was a billing analyst for a company with great benefits. He continued to be an IT guy. However, he hated his job (this seems to be a common theme here with IT dudes).
They were also a few hundred miles away from their immediate friends and family. And they weren't there for a lot of their family members who suffered personal losses. Eventually, they had a kid and realized they wanted a simple life, closer to grandparents and the life they grew up in.
Staying at a job that doesn't match your stage in life, takes its toll. After being away from one too many life events that were happening back home, overnight they decided to throw a for sale sign up in their yard, packed up their life of +10 years in a U-Haul and made plans to head west.
Transitioning To Live A Simple Life
Luckily, it was a seller's market and I believe by the time they finished loading up the U-Haul, they had an offer on their house. They were already in negotiations of buying a house (double wide trailer with 3 bedrooms and 1.5 bathrooms) on an acre of property, sight unseen, in a remote area of Montana.
The property also came with a garage, barn, a shed and even the framework for a greenhouse (super cool!).
Their kids are now within 10 minutes of one set of grandparents, and about an hour away from the other side of the family.
Initially, jobs were hard to find. They were considered "outsiders" moving into a community. But, once they proved they were good citizens, and also mentioned they were related to X number of people in the community, they seemed to be accepted fairly well after that.
He found a job working in construction. And even exercises his IT skills on the side by managing websites for other people's businesses.
She wanted to be a stay-at-home mom. But found herself always being asked to help out at the local daycare, for their church, etc. Also, she's an amazing mom and has a state or county position (I can't quite remember), to help transition new moms in their home and be a breastfeeding consultant. Which she's absolutely perfect for as her passion and confidence lights up when she talks to people about babies and breastfeeding.
What To Do Living The Simple Life
My friend made me aware of the kids are already into their "summer routine." Their day starts when the sun comes up in the morning, and ends when the sun goes down at night and maybe (if she's lucky) an afternoon nap.
After they wake up in the morning, they aren't ready to eat. So they hit up morning chores outside. Feeding cats, watering plants and their garden and playing with all their tiny little fairy gardens made around their farm. It's seriously the cutest thing ever finding these all over. It's like hunting for Easter baskets!
Then they walk down the road to get their mail and give the neighbors horses treats along the way. (They come up running and expect this now).
After breakfast, they head into town mid-morning to exchange their library books. They don't have the imagination library there. 🙁 And it's not as cool as GenYMoney's library where you can rent instruments! But, it kind of reminds me of Hogwart's:
A little dusty and full of trinkets for kids to earn during the summer reading program. When you are little, I can assume it looks like a super magical place. As for me, I just want to clean it for an extreme amount of time…
A light lunch, then afternoon naps. Wake up in time for the sun to have warmed the water in their little kiddie pool and play outside until supper time.
Nights are spent with a simple bonfire and learning constellations through their high-powered telescope. Which, is really cool ya'll! I did not know I could spy, with my little eyes, Saturn's rings and the storms on Jupiter!
Occasionally there will be a community picnic or farmer's market to go to on Saturdays. Also, trips to the nearby lake. Oh, and lots of hiking. Hiking. And more hiking.
Earthing territory here!
How We Prepared To Live The Simple Life For A Week

Since we didn't have the stress of finding lodging or trying to camp, packing was a breeze! It's helpful when our friends own a washer and dryer (bonus – clothes line outside!). So, a few changes of clothes for warm days and cold nights, and enough underwear to get us by for a few days.
Wahoo!
Since it is a smaller home, with not a big water heater, showers everyday don't occur. Last time we visited here, I showered about every 3rd day and just took sponge baths in the sink at night to shave. Since my hair is now past my shoulders, I'm debating if I should try and get some dreadlocks going like Rob Zombie.
(not posting a pic as it will likely scare the children. I'll just link it here if you don't know who Rob Zombie is).
Or, in my luck(?), my hair will end up looking more like Kurt Cobain's: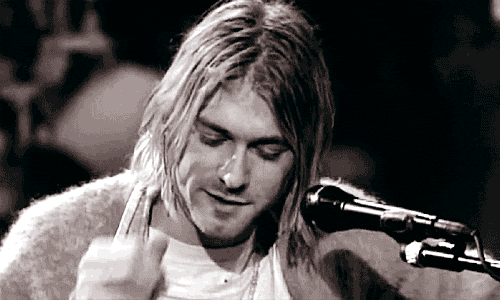 Thank goodness for dry shampoo! This is a lifesaver! As for my boys, I put the #1 on the hair clippers for the sides, a #6 for the top, and gave them some good, short summer haircuts!
Makeup? Yeah, I didn't even pack it.
If I wore it, I would likely get asked in the community if I was going to a wedding, a baby shower or a funeral.
In that order.
Looking forward to a week of only applying sunscreen!
How To Entertain A Small Kid For A long Road Trip
We brought as much of our engaging toddler activities as we could on this trip. And did not resort to the kindle as we found out the hard way, this induces car sickness. The best item that kept his attention is a recent gift, a 72-piece magnetic shape set. And Mr. DS's bottle caps (yes, like the one in this picture).
Once my kid found out these were magnetic, he collects them like they are coins for his piggy bank! I realize it's slightly odd for a kid to run around with bottle caps, but hey – it's entertaining him for like 2 hours a crank in the car. So there!
I eventually also gave in, and let him start cutting his own fingernails and toenails on this trip. It entertained him for a solid hour (while I drafted this post! #BloggingWin). And he did an awesome job at it!
Wow, kids adult so quickly.
He also brought his toy camera and took lots of pictures out the window. However, one of the best ways to entertain him, is to just wear him out at parks along the way. Here's a beautiful park in Montana and even a more beautiful scenery behind it! Oh look at that hunk of a dude supervising kids on a playground too:
Pack A Cooler And Start Living The Simple Life!
Since we are cheap frugal AF, we packed a cooler with ice, bread, sandwich meat, cheese slices, juice, milk and lots of other snacks for the long haul.
Our son seemed to love the idea of picnics every few hours. If they were paired with a playground (thank goodness we had good weather!).
Readers:
Have you taken a vacation to live the simple life? If so – where did you go? Or what's your ideal vacation?

Comment below or shoot me an email! We would love to hear from you!
Want to know more about us?
Check out our awesome About Us! page.
Or – check out our categories! This article is filed under the category, "Lifestyle" but we also write on many subjects such as Careers and Professional Development, Motivating Money Topics, and Blogging About Blogging.
We even write a Wednesday weekly newsletter, Hump Day Heat, highlighting some amazing finds within our favorite blogging community. Check it out, you may be listed!
Let's Be Friends!
Sign up right here to receive notifications of new posts, newsletters or giveaways. We promise we won't spam you, and as you will see in our disclosure, we will keep your information private.