What's In Your Swear Jar?
Some of the hardest questions our kid asked us as soon as he started talking was, "Why do we have to leave our home everyday? Why can't we stay here?"
Well son, we have to go to work.
"But why can't you work here?"
I'm sorry, but we don't make any money working at home. We have to go to our workplaces. If we don't work, we can't afford to live here.
"Can you quit your jobs and we move in with grandma and grandpa?"
Well son. As much as grandma and grandpa love us, I think they just like us visiting and can't support all of us living there. And if we don't work, we can't pay our bills. Then we will go to jail. But if we work, save enough money and pay all our bills, then we can quit our jobs and stay home forever!
~ insert wide eyes from toddler.
I know. Teaching a toddler the value of work, money and punishments are interesting subjects.
How do we accomplish this?
The swear jar fund!
It's not the exact name for it (we actually call it a piggy bank) but when the spouse and I contribute to it, it usually makes us want to drop a 4 letter word or two.
Read on to find out more how we teach our kiddo some early life lessons with our swear jar!

Swear Jar Purpose Number 1: Piggy Bank
It's kind of cute when our kid receives birthday money in the mail or finds a shiny nickel on the street (or rummages through our wallets).
The first thing he does is run and put it in his piggy bank. And shakes it and says, "It's getting heavier!"
His focus so far in life is savings. That's OK kid – build up that emergency fund!
We haven't told him the concept of "make your money work for you yet" but I think that's going to be a fun one and we may have to incorporate some action figures into it.
We are not really sure if he knows why he's saving yet, but we think maybe it's just to not work someday.
Honestly, mom and dad couldn't be prouder. We hope these thoughts are still in his head when he gets his first credit card.
Swear Jar Purpose Number 2: Punishment
Not for him.
For us.
We aren't taking any funds out of his piggy bank for his crimes (yet, mom confiscates certain toys for a week) however he does punish us for ours.
We kind of joke about it, but our kid is a little police officer.
As mentioned before, we have many rules in our house. Between the both of us parents, we catch ourselves randomly saying things like stupid, crap, dang, gosh and heck.
I know what you may be thinking, "Dude. Those aren't swear words."
But, I was raised a little different, and in my opinion, once you start saying these expletives, it's a slippery slope to the real 4-letter F bombs, h-e-double hockey sticks and taking thy Lords name in vain. Soooo, we cut it out when we can. Around our kid or other kids. However, adults and blog = heck yeah! Game on.
Getting back to the point of restricting kids around cuss words, there's nothing uglier than elementary age kids saying 4 letter words (especially in front of their parents; my niece is one of them).
And you just wonder where they picked up on it at. It's just disrespectful and pitiful. Again, in my opinion.
As far as the stupid word goes, I learned that is a sensitive word as an adult. Out of 12 supervisors I've had over the years, 3 of them had a child with mental or physical disabilities.
I watched all of them make corrections and educate those who used the word stupid or retarded around them, and I really admired them for their tact in how they handled people.
I also think having a child with disabilities made them a better Supervisor. They had more patience for employees than I would have for some situations. They also had a life outside of work and prioritized family > work.
If I can teach my kid to be respectful, kind and inclusive to anyone with disabilities, well heck, parenting mission complete.
So, we drop a coin here and there into the jar when our kid catches us saying bad words. Sometimes I'll just drop in a $5 and call it good for the week. #AdvancePayment
Future Swear Jar Purpose: Earnings From Work
I always get asked from friends about what my kid's allowance is or how much we pay him for chores. My usual reaction: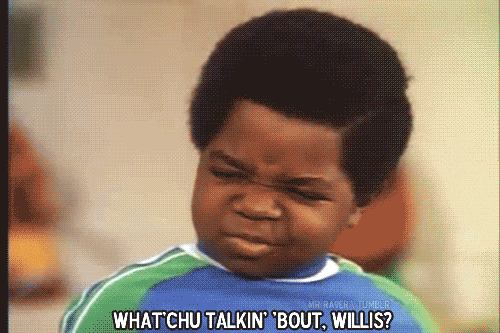 Dude – I know! They must have missed the memo I'm all about living a simple life and  teaching the importance of cleanliness for having a peaceful mind and soul within a family.
A family that cleans together sticks together! Not sure if that's on a memo anywhere. Oddly, I haven't done a DIY frame for that quote yet but I could totally see it in my house.
Getting back on point, we don't believe getting paid to do chores around the house is a good way of earning money. Or getting paid for existing in a house? I can't figure that one out yet. We want to encourage the thought process:
Your parents aren't a source of income
There are ways to make money elsewhere….so go out and make yaself some.
If our kid wants to mow the neighbor's lawn for a summer, walk their dog, do a paper route, start a blog or whatever, we are totally on board with that. And if he works hard contributing within our home, as parents we will support him along the way.
Readers:
Do you have a swear jar in your home for yourself or your kiddo? Or do you have any other odd ways to save money in your home?

Comment below or shoot me an email! We would love to hear from you!
Want to know more about us?
Check out our awesome About Us! page.
Or – check out our categories! This article is filed under the category, "Motivating Money Topics" but we also write on many subjects such as Careers and Professional Development, Blogging About Blogging and other Lifestyle topics.
We even write a Wednesday weekly newsletter, Hump Day Heat, highlighting some amazing finds within our favorite blogging community. Check it out, you may be listed!
Let's Be Friends!
Sign up right here to receive notifications of new posts, newsletters or giveaways. We promise we won't spam you, and as you will see in our disclosure, we will keep your information private.
Cheers and have a great day!
PS – Sharing is caring! Pin, Tweet or Share this page! Thank you!